Data/Laikas
Data - 25/05/2021
10:00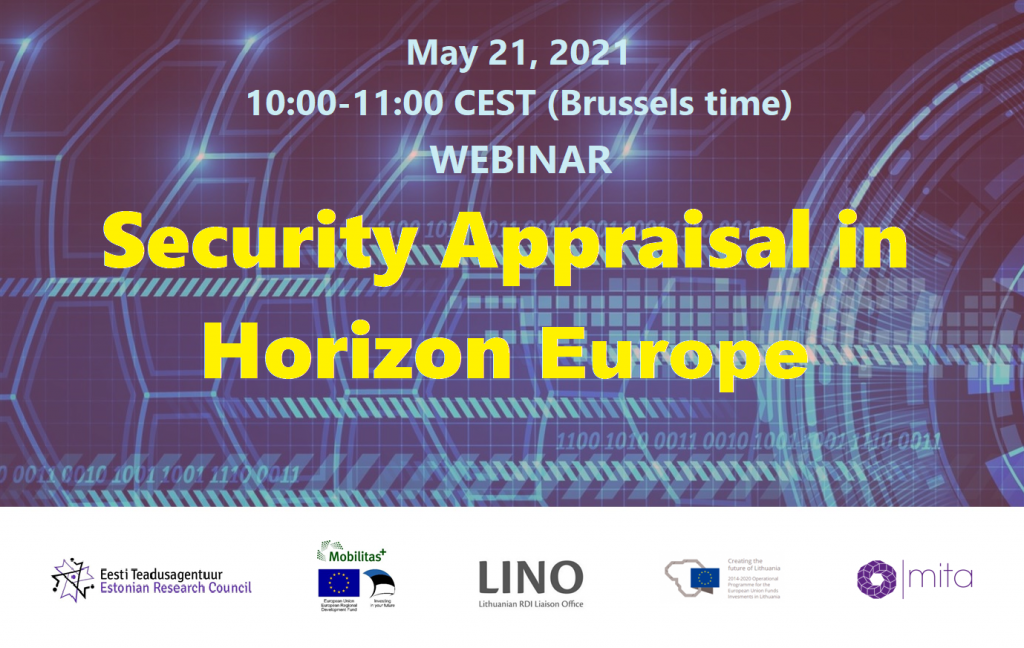 All activities submitted for funding under Horizon Europe will have to go through the Security Appraisal process to authorise funding. Activities involving classified and/or security sensitive information will be made subject to specific security requirements. This online event will give an overview of the Security Appraisal process in Horizon Europe and is co-organised by the Lithuanian RDI Liaison Office in Brussels (LINO), Estonian Research Council's Brussels Office (ELO) and Lithuanian Agency for Science, Innovation and Technology (MITA).
If you missed this event or just want to come back, watch video recordings.
AGENDA
10:00 – 10:10 Welcome remarks
10:10 – 10:45 Overview of the Security Appraisal process. Maria Eleni Chondrogianni, European Commission
10:45 – 11:00 Q&A session
This webinar is free of charge, but the registration is required. Register before May 20 here. We urge you to pose your questions in advance in the registration form. This will help to shape the content of the presentations!
Contacts:
LINO – Brigita Serafinavičiūtė (brigita.serafinaviciute@lmt.lt)
ELO – Maarja Soonberg (maarja.soonberg@etag.ee) or Ülle Napa (ulle.napa@etag.ee)
MITA – Eglė Elena Šataitė (egle.elena.sataite@mita.lt)
Dalintis per…