Data/Laikas
Data - 08/03/2022
13:00 - 17:00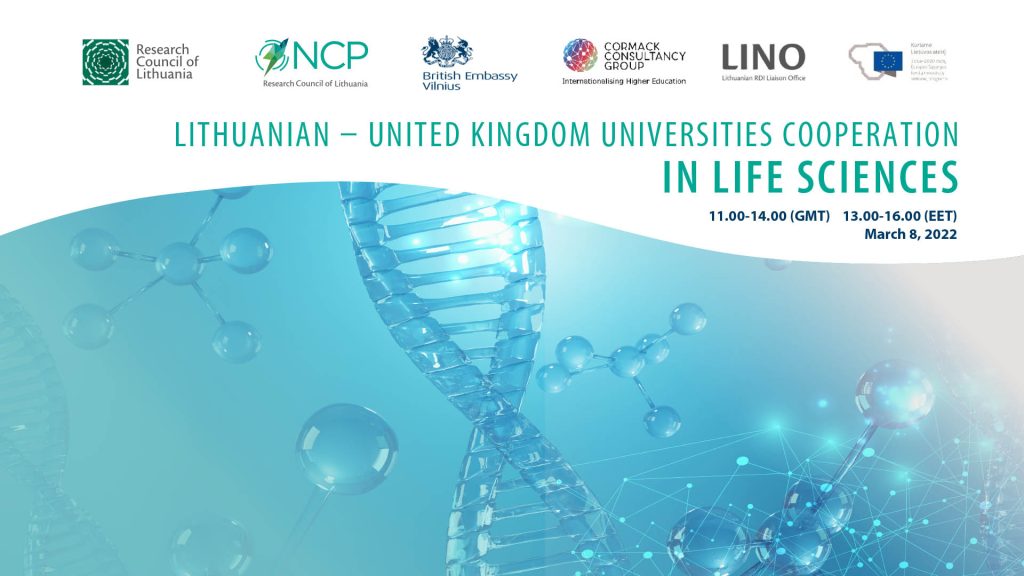 The conference is organized by the NCP (National Contact Points) of the Lithuanian Research Council together with the Embassy of the United Kingdom in Lithuania, Lithuanian RDI Liaison Office in Brussels LINO and the consulting company Cormac Consultancy Group.
The conference will focus on various opportunities for developing bilateral life sciences links, as well as opportunities for cooperation in the Horizon Europe programme. It will feature a presentation session by universities, in which 7 Lithuanian universities and 6 universities in the United Kingdom will speak on their life sciences research. The event will also be addressed by the Ambassador of the United Kingdom J. E. Brian Olley, the Deputy Minister of Education, Science and Sports of the Republic of Lithuania Gintautas Jakštas, the Chairman of the Lithuanian Science Council prof. Romas Baronas.
The event is free of charge and it's a hybrid (onsite and online) event. The registration is necessary.
Please register to the conference till March 7th, 10:00 am here.
As well as all participants are invited to indicate their fields of interest to be included in the partner search list, which will be prepared and shared by the organisers. Only participants who will indicate one or more fields of interest will be included in the list and the list will be shared among these participants only. If you would like to benefit from this option, please indicate in the registration, in which areas you wish to find partners and briefly describe what do you offer.
Dalintis per…