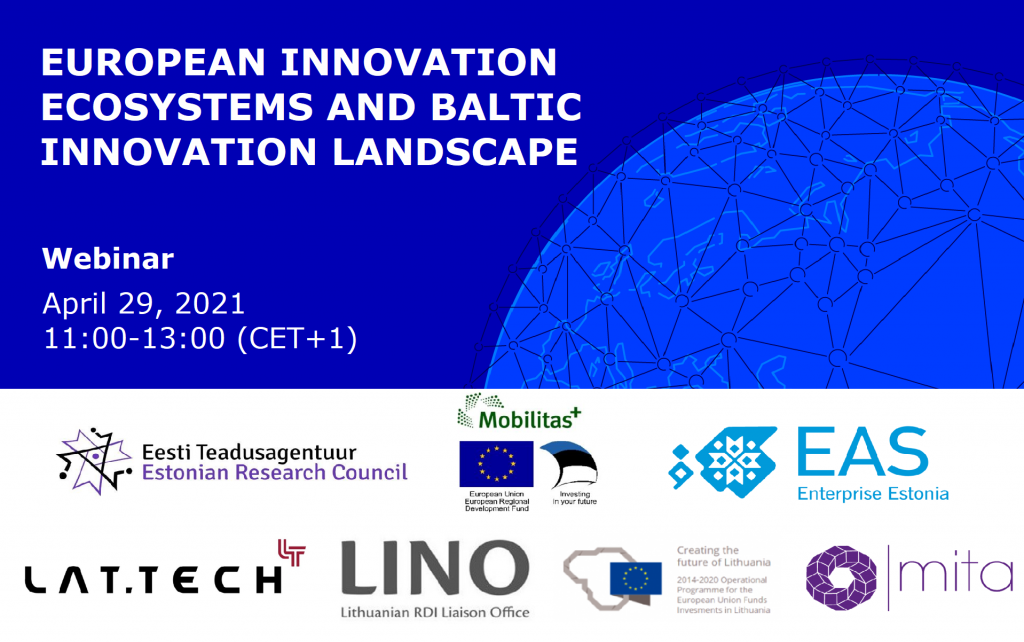 Did you know that the EU´s research and innovation programme Horizon Europe supports European innovation ecosystems (EIE)? How can national systems benefit from this new measure? Who can apply? When the first calls are expected to open? Find the answers on the 29th April at our webinar co-organized by Estonian Research Council, Enterprise Estonia (EAS), Lithuanian RDI Liaison Office in Brussels (LINO), Lithuanian Agency for Science, Innovation and Technology (MITA), Latvian office for Innovation & Technology in Brussels (Lat.tech). The event will provide also the opportunity to discover the newest ambitions in the field of innovations in all three Baltic states.
We are pleased to invite you to the webinar on EUROPEAN INNOVATION ECOSYSTEMS (EIE) AND THE INNOVATION LANDSCAPE OF THE BALTIC STATES which will take place on Thursday, 29 April from 11:00 to 13:00 (CET+1).
Keynote speaker Mrs Fabienne GAUTIER from the European Commission will give a comprehensive overview of the EIE – objectives, target group and upcoming calls. The representatives of the governments of the Baltic states´will present the goals of the countries in the field of innovation and their expectations regarding the EIE programme. In addition, you will hear about the European partnership for Innovative SMEs – Eurostars programme and will find out what national support networks can help you with the EIE programme.
If you wish to participate, please register by 27 April 2021 using this following link.
We urge you to pose your questions in advance in the registration form. This will help to shape the content of the presentations!
AGENDA-April 29 (Tallinn, Rīga, Vilnius time)
11:00 – 11:10 Opening Address
11:10 – 11:25 Innovation landscape in Estonia, Latvia, Lithuania: overview of innovation policies and expectations regarding EIE
The state representatives in charge of EIE:
– Mr Mikk VAHTRUS, Scientific Adviser (RDI), Member of EIC/EIE Shadow Committee, Ministry of Economic Affairs and Communications of Estonia
– Mr Reinis ĀZIS, Deputy Director of Latvian Investment and Development Agency (LIAA), responsible for technology transfer and ecosystems
– Mr Ričardas VALANČIAUSKAS, Director of the Innovation and Industry Department at the Ministry of Economy and Innovation of Lithuania
11:25 – 12:45 Introduction of EIE programme: the aim, target group, budget, upcoming calls
– Keynote speaker: Mrs Fabienne GAUTIER, European Commission
Q&A session moderated by Dr Ülle Napa, Estonian Liaison Office for EU RTD in Brussels
12:45 – 12:50 Eurostars/Innovative SMEs
Mrs Maria VÄRTON, Development cooperation expert, Trade and Innovation Centre, Enterprise Estonia
12:50 – 13:00 Support networks: National Contact Points (NCPs), European Enterprise Network (EEN):
Introduction of NCPs for EIE (Estonia, Latvia, Lithuania)
Mr Rene TÕNNISSON, EEN´s Partner, Baltic Innovation Agency OÜ: EEN Contact point and EIE: what type of assistance they can offer?
13:00      End of the webinar
Practical information:
Pre-registration is needed. Please, register by 27 April 2021, using the following link
The webinar will be on Zoom.
Working language of the event – English.
It is recommended to send EIE related questions using the registration form.
Further information:       
Estonia: 
Estonian Research Council: Dr Ülle Napa, ulle.napa@etag.ee
Enterprise Estonia: Ms Eve Päärendson, eve.paarendson@eas.ee
Latvia:  
Latvian office for Innovation & Technology in Brussels (Lat.tech): Ms Egita Aizsilniece-Ibema, Egita.Aizsilniece-Ibema@liaa.gov.lv; brussels@liaa.gov.lv
Lithuania:    
Lithuanian RDI Liaison Office LINO: Dr Brigita Serafinavičiūtė, brigita.serafinaviciute@lmt.lt

Share this...