Date/Time
Date - 17/11/2020
16:00 - 18:00
The world is still adapting to a new reality that was unfathomable few months ago. With university closures, the Covid-19 pandemic has introduced abrupt changes in teaching and learning and interupted the majority of reseach activites. This health crisis provides us with a unique opportunity to explore new approaches to deliver high quality education, excellent science and innovations that are more than ever needed to build a different model of society.
This conference will review direct and knock-on impacts of the Covid-19 pandemic that are reshaping the role of universities and address actionable EU policy recommendations to improve resilience and preparedness across higher education and research institutions. The role that our universities play in the fight against the pandemic will also be assessed.
The 2020 UnILiON annual conference agenda will address:
How has Covid-19 created new challenges and played into broader discussions around education, research and innovation?
How can universities harness digital education opportunities without jeopardising the quality and accessibility of its formation offer? How should this transition be managed?
How can the EU ensure university cooperation in research for rapid response to future global emergencies?
In light of recent developments in Brussels, we have decided to hold the UnILiON 2020 Annual Conference virtually. Participants will be able to engage in high-level panel discussions and conversations between policy makers and university leaders. Other interactive features will include polling and live analysis of results, in addition to live question and answer sessions between participants and speakers.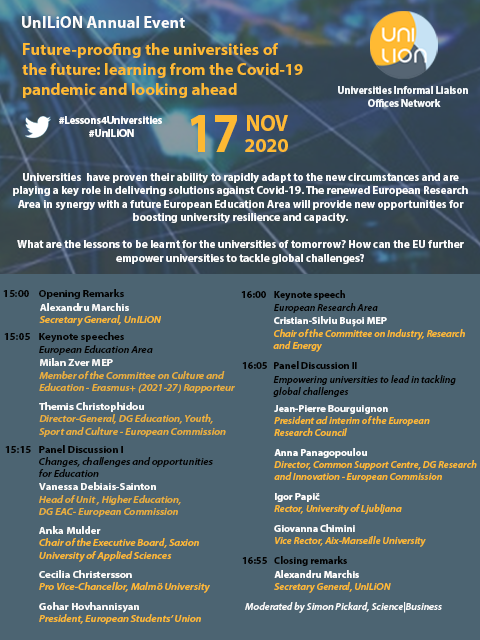 More information you will find here.
Share this…