Date/Time
Date - 29/06/2021
9:00 - 12:00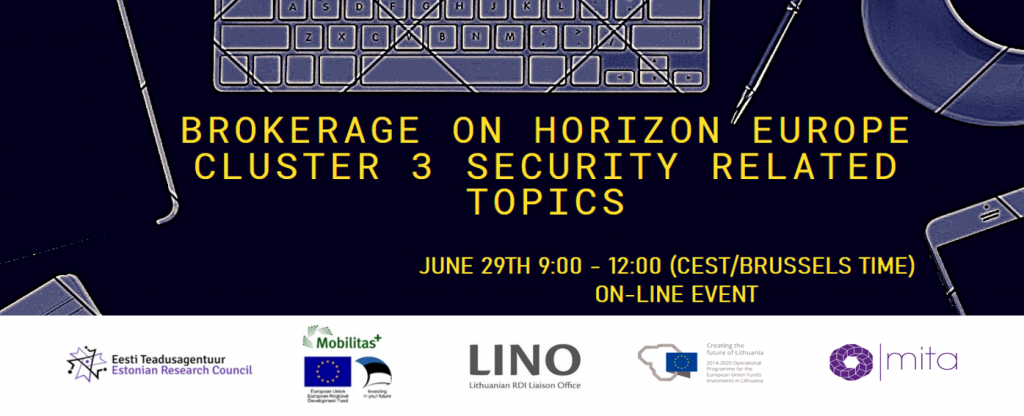 Lithuanian RDI Liaison Office in Brussels (LINO), Estonian Research Council's Brussels Office (ELO) and Lithuanian Agency for Science, Innovation and Technology (MITA) jointly organise a brokerage event on Horizon Europe Cluster 3 security related topics. The main objective of the event is to build a platform for the participants to share their project ideas and find partners for future consortia.
The brokerage event will be dedicated to the pitch presentations on the following Horizon Europe cluster 3 calls from 2021 WP:
HORIZON-CL3-2021-FCT-01-06: Domestic and sexual violence are prevented and combated (IA)
HORIZON-CL3-2021-BM-01-03: Improved border checks for travel facilitation across external borders and improved experiences for both passengers and border authorities' staff (IA)
HORIZON-CL3-2021-BM-01-04: Advanced detection of threats and illicit goods in postal and express courier flows (RIA)
HORIZON-CL3-2021-CS-01-01: Dynamic business continuity and recovery methodologies based on models and prediction for multi-level Cybersecurity (RIA)
HORIZON-CL3-2021-CS-01-04: Scalable privacy-preserving technologies for cross-border federated computation in Europe involving personal data (RIA)
Agenda (Time zone – Brussels/CEST)
08:45 – 09:00 Opening the virtual room
09:00 – 09:05 Welcome remarks by the organizers
09:05 – 09:15 General introduction of the Horizon Europe Cluster 3.
Claudio Catalano, Programme manager at DG HOME, European Commission
09:15 – 09:25 Horizon 2020 success story: DEFEND: Data governance for supporting GDPR.
Beatriz Gallego, coordinator of the DEFEND project
09:25 – 09:35 Introduction of 5 pre-selected Cluster 3 calls by national NCPs
09:35 – 10:35 Pitch presentations by the participants
10:35 – 10:40 Closing remarks
You can register as an attendee (listen to the webinar) or as a pitch presenter (to make a 2 minute pitch on your ideas and capabilities). One pitch presentation per institution. There is a limited number of pitch presentations so the registrations will be handled on the first come – first served basis.
The deadline for registration as an attendee is June 25th and as a pitch presenters – June 22nd.
(Please indicate type of your participation in the registration form and organizers of the event will contact you directly.)
You can register here. The link to the event will be sent by June 28th, 2021.
Share this…