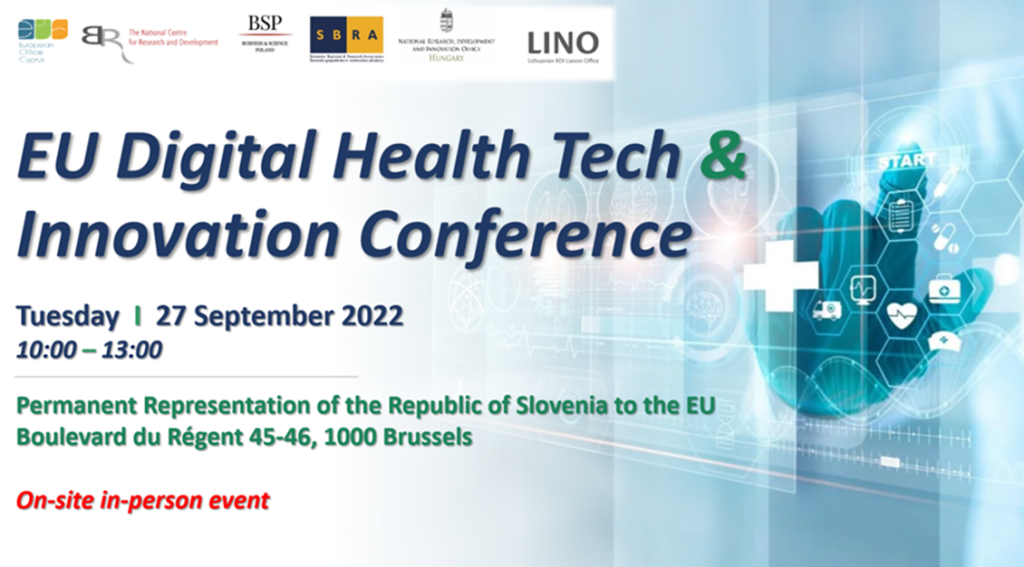 The Slovenian Business & Research Association, the European Office of Cyprus – Brussels Office, NCBR Office in Brussels – Business & Science Poland,  Eötvös Loránd University, the National Research, Development, and Innovation Office in Hungary and the Lithuanian RDI Liaison Office in Brussels (LINO)have the pleasure to cordially invite you to  the EU Digital Health Tech & Innovation Conference on September 27, 2022 (Time: 10:00 – 13:00 CEST) in the Permanent Representation of the Republic of Slovenia to the EU Boulevard du Régent 45-46, 1000 Brussels (On-site event).
In recent years, especially in the light of the COVID-19 crisis, the healthcare sector has become more data-driven, the use of digital technologies in the health sector has increased, and health practitioners are able to use data and technologies to speed up and increase the efficiency of health services.
The objective of the conference is to present the latest EU policies, initiatives and trends in digital health, present funding opportunities for digital health projects and showcase innovative business models from organizing countries.
The event will be an excellent opportunity to discuss the challenges in digital technologies in the healthcare sector, learn about initiatives in the EU in eHealth, as well as to network with healthcare experts during a deliciously prepared light lunch.
The detailed programme is available here, because of limited space available, we urge you to register here ASAP.
AGENDA:
10:00 Opening & Welcome Words by Organisers TBC, Permanent Representation of Slovenia to the EU: Dr. Draško Veselinovič, President of the Management Board, Slovenian Business & Research Association (SBRA)
10:05 eHealth, Ageing and R&I Funding in Digital Health: Ms. Saila Rinne, Head of Sector for eHealth and Aging, DG Connect, European Commission
10:40 Centre for the Technologies of Gene and Cell Therapy: Dr. Barbara Tišler & Prof. Mojca Benčina, National Institute of Chemistry
11:00 Innovative business models for Digital Health
Digitalizing health data and services for patients and R&D – the case of Vilnius University hospital Santaros Klinikos: Mr. Roman Volkov, Information systems specialist, Informatics and development Center, Lithuania
Slovenian Resesearch and Innovation Partnership in Health: Mr. Gorazd Hladnik, Provita, Slovenia
Advanced technologies in digititalisation of health data:
Mr. Gašper Čehovin, Parsek, Slovenia
Prof. András Lőrincz, Neural Information Processing Group, Eötvös Loránd University
Dr Marios Karaiskakis, President of the Cyprus Association of Private Hospitals
12:20 Questions & Answers
12:30 Networking Lunch
Share this...