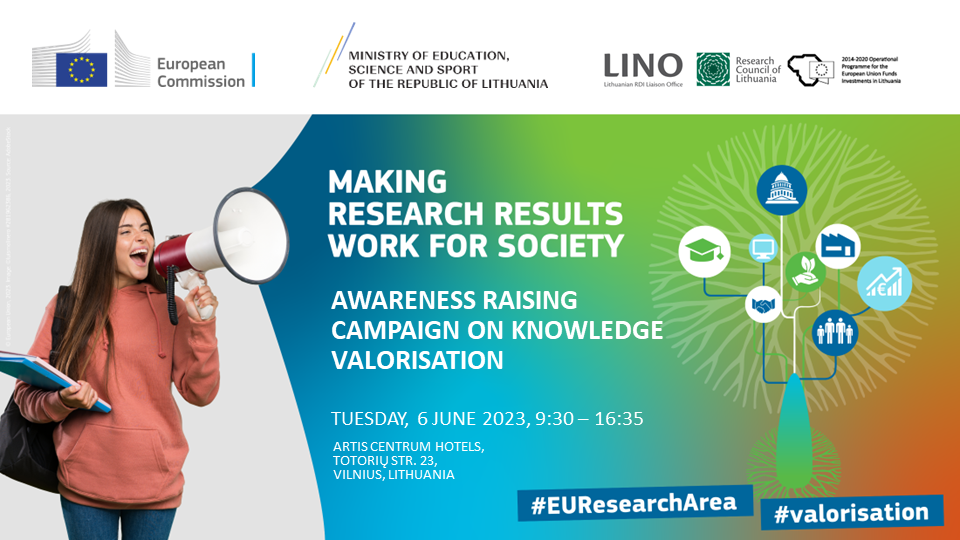 Research Council of Lithuania and The Ministry of Education, Science and Sport hereby kindly invite you to take part in a conference on promoting the guiding principles for knowledge valorization. The event will be held in Vilnius in the framework of the "Tour des Capitales", an EU awareness raising campaign facilitated by the European Commission's Directorate-General for Research and Innovation.
TUESDAY, 6 JUNE 2023, 9:30 – 16:35
Artis Centrum Hotels, Totorių str. 23, Vilnius, Lithuania
The conference programme will include in particular:
Introduction to the EU Council Recommendation on the Guiding Principles on Knowledge Valorization adopted by the EU Research Ministers on 2nd December 2022 and National Measures for Boosting Knowledge Valorization;
Presentation of the Code of Practice on the Management of Intellectual Assets for Knowledge Valorization in the European Research Area, and the Code of Practice for Researchers on Standardization in the European Research Area, supporting the uptake of the Council Recommendation;
Showcases of knowledge valorization in Lithuania;
Trainings on practical implementation of both Codes of Practice;
Policy debate on the importance of Knowledge Valorizations.
The conference will be held in English without translation. Detailed agenda is here.
For more information about the event, please contact Tadas Tumėnas, e-mail: tadas.tumenas@lmt.lt.
Share this...