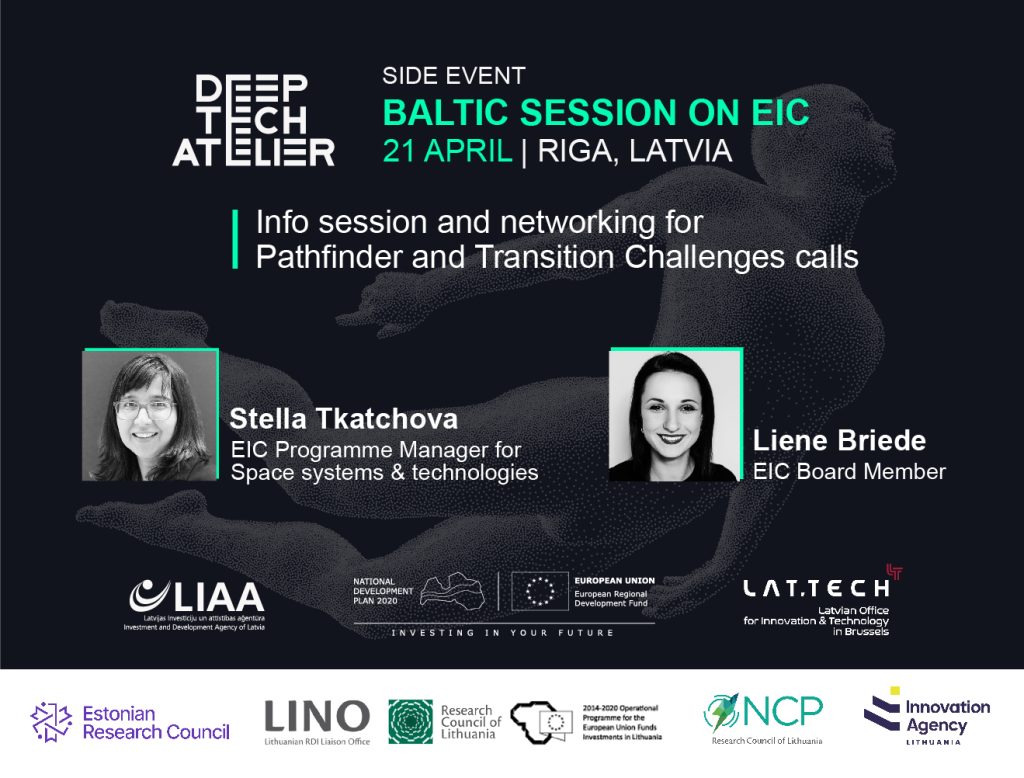 The Baltic session on EIC taking place on 21st of April, 9.30-12.00. It is a side event of Deep Tech Aterlier 2023 therefore we recommend you to register for both events. The venue is Radisson Blu Latvija, in Riga.
—————
9.30-9.45        Welcome introduction of Estonian, Latvian and Lithuanian R&D offices in Brussels and National Contact points. Introduction of EIC Pathfinder and Challenges
9.45 – 10.00   Liene Briede, EIC board member, Acting Director of the Science and Innovation Center at Riga Technical University
10.00-10.15     Stella Tkatchova, EIC Programme Manager for Space systems & technologies
10.15-10.30      Q&A
10.30-11.15       Pitch session (3min pitch per participant)
11.15-12.00 –    Moderated networking among Baltic partners and experts
—————
Following EIC Challenges are selected for networking and preparation of joint applications:
EIC Pathfinder challenges (up to 4M EUR for 2-3 partner consortium):
EIC Transition challenge (up to 4M EUR for Individuals or 2-3 partner consortium):
Environmental intelligence. Should focus on demonstrating novel devices, sensors or technologies that have a clear and quantifiable advantage with respect to one or several of the key issues mentioned above compared with existing alternatives for similar class of problems or applications.
Please contact julija.baniukevic@lmt.lt in order to register and get more information related Lithuanian participation in the event.
Share this...